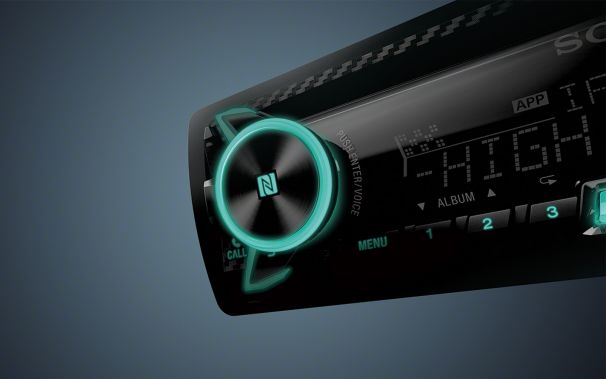 Written by Garry Springgay | 11 March 2015
Through the utilization of new high-power Class D chipsets, Sony has introduced the world's most powerful CD receiver for car audio applications. The all-new Sony MEX-XB100BT is equipped with an honest-to-goodness CEA-2006B rated, 40 watt per channel amplifier! This represents a near 100-percent increase in power available from a head unit.
The MEX-XB100BT not only has about twice the power output of most head units, it is also equipped with Bluetooth, NFC, Sony's Mega Bass sound shaping, Pandora (US only), SiriusXM connectivity, and perhaps best of all, voice control capability for either Android or iPhone.
At the heart of the unit is the four-channel Class D amplifier from Texas Instruments. This high performance integrated amplifier is designed for excellent sound quality and serious power output while maximizing power efficiency. Translation: It sounds great, makes a lot of power, and draws a minimum amount of current. When used with Sony's XB series speakers, the system is designed to make the most of Sony's Mega Bass circuitry, which might convince you that a subwoofer isn't even needed! The "Advanced Sound Engine" DSP built into the MEX-XB100BT allows you to make all sorts of adjustments including custom equalization, crossover settings and more.
But gobs of power and great sound simply aren't enough these days. We expect to integrate our smartphones and take advantage of the technology provided. To that end, Sony has developed an app called SongPal, which can be downloaded and installed on your smartphone. With it, you can control your music and smartphone apps from either your phone or the head unit.
Additionally, SongPal allows basic controls via voice commands. For example, you might say "navigation" to launch your navigation app, or reply to your last SMS message by simply speaking. You can even speak song track names and have them play automatically. If you get email on your phone, the SongPal app will keep you up to date by reading your mail or SMS messages to you. It also works in the other direction. For instance: if you have a USB drive loaded with music plugged into the MEX-XB100BT, you can browse through the selections by using the screen on your smartphone.
One more feature that may be quite popular for some users is the ability to bring a "dance club" atmosphere to your car's dashboard. Thanks to Sony's "Sound and Color Synchronization" feature that senses the beat of your music, the head unit's LED display can change color and pulse to the beat of the music, giving passengers a visual sensation to match the listening experience.
To get the most out of the MEX-XB100BT, Sony suggests pairing the unit with their new three-way XB series speakers. Available in three sizes (5.25, 6 and 6×9 inch), these speakers are designed to work perfectly with the more powerful amplifier used in the head unit. The speakers come with wiring, grilles and all the required mounting hardware.
CONTROLS AND ERGONOMICS
The MEX-XB100BT is a simple and intuitive head unit. Commonly used functions like source selection and track up/down have large, well-placed buttons. The volume is controlled using a rotary encoder, which also houses the NFC contact point. Pairing a phone is very simple and quick, and the SongPal app is also easy to download and understand.
The LCD display and the button illumination colors can be set independently from each other, and both have the ability to be set to pretty much any color you could possibly want. The display itself is well-lit and easy to read, except in direct sunlight, which is a common problem with displays of this type. The removable faceplate installs and removes easily with a quality feel.
The menus and submenus are typical Sony; logically laid out and easy to understand. It would be nice to have the sub level control adjustment more readily available, but most subwoofer amps have their own level control anyway.
To read more
http://www.pasmag.com/car-audio/test-reports/3885-sony-mex-xb100bt-receiver-review